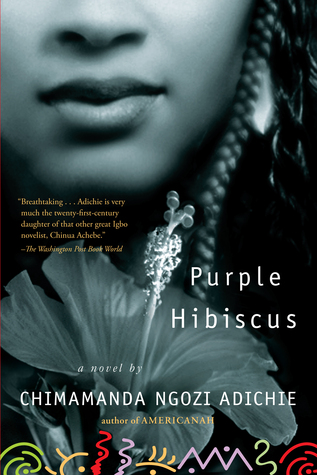 Purple Hibiscus is the Sisters Book Club selection for February 2015. For March, we're reading some nonfiction: The Peabody Sisters by Megan Marshall. Come join the discussion on our Goodreads Group!
It seems like a difficult thing to write a book that is honest about both the very good and the very bad in human nature without either glossing over the brutal bits or dwelling on them so much that you wring all hope out of the good bits. In Purple Hibiscus, Adichie has found her way over this difficulty with virtuosity. She dwells not only on the beauty and not only on the brutality, but she allows them to coexist side by side, giving each more significance and poignancy in the contrast.
I recently read Jesmyn Ward's Men We Reaped, and while it's a powerful memoir and I trust that the pull Ward feels towards Mississippi is very strong, nothing in the book really helped me understand what made her want to return. There's this ineffable sense of "home" one pursues, I imagine, but what is it specifically that draws someone to a particular place? What does that "home" feel like? Purple Hibiscus made it clear not only why someone would want to leave Nigeria but also why someone would want to stay, even when she has other options. The language and descriptions were so vivid, I felt the heat and smelled the air after the rain. I have never been to Nigeria so I have no idea if my mental picture is accurate, but it was vivid enough to make me forget the piles of snow about to engulf the street sign on our corner, and to help me understand what—beyond familiarity—draws people to this particular place.
Adichie allows the good and bad of the country to echo in the relationship of Kambili's family with her father, making it easier to understand why someone can both want to escape and long for a dangerous relationship. By telling the story through Kambili's eyes, Adichie helps to ease us into this world. She doesn't lay everything out all at once because it's just part of Kambili's life; there are things Kambili knows that she doesn't need to replay unless it's necessary. Since she downplays the bad in her own mind, we get a bit of a buffer from it, too. I also love how none of the characters is either all good or all evil. They are a mix, which makes them feel real.
This is an extraordinarily powerful book of contrasts, and I look forward to reading more of Adichie's novels.