This issue of the TBR List Declutter is a bit delayed. I thought I'd gotten wifi at all of the places we were staying on vacation, but it turns out I didn't. And in coffee shops in León, Spain, no one seemed to be working at tablets or laptops—they were all drinking coffee and eating gratis pastries and talking animatedly to one another (we-ird)—which left me feeling too self-conscious to post from there.
If you want to know the truth, I don't really feel bad about missing my arbitrary weekly schedule for my TBR List Declutter. I was in Spain, goshdarnit, and it's difficult to feel bad about anything in Spain, except for the fact that I was exhausted trying to understand and speak Spanish for ten days and traffic circles always make me cry, but in the face of castles and mountains that belong on postcards and cathedrals that also belong on postcards and beautiful, freezing beaches (postcards) and tapas for Thanksgiving (Instagram), I'm certainly not going to feel bad about not posting about books I don't want to read.
Okay fine, I do want to read some of them. Don't mind me; I'm just in a whiny mood because of the jet lag. (I know: boo-hoo, no one twisted your arm to go to Spain, did they? No, they didn't, but that doesn't make me any less tired.)
Wondering what this is all about? Check out the introductory post.
241
Title: A Single Shard
Author: Park, Linda Sue
Date Added: 09/01/12
Verdict: Go. I was on the fence about this one, but I decided to set it aside for now mainly because it won a Newbery Award. Not that there's anything wrong with winning a Newbery, it just means that I won't forget about it if I take it off my TBR.
Project List: n/a
242
Title: The Screwtape Letters
Author: Lewis, C.S.
Date Added: 09/01/12
Verdict: Go. Interesting idea, but I've read some of C.S. Lewis's Christian stuff, and I'd rather read his science fiction. And it's C.C Lewis; I'm not going to lose track of it if it's not on the TBR.
Project List: n/a
243
Title: Out of the Silent Planet (Space Trilogy, #1)
Author: Lewis, C.S.
Date Added: 09/01/12
Verdict: Keep. I tried to read this a few years ago and couldn't really get into it. I'd like to give it another chance, and if it doesn't grip me, I'll DNF it.
Project List: none
244
Title: The Last Werewolf (The Last Werewolf, #1)
Author: Duncan, Glen
Date Added: 09/11/12
Verdict: Keep. It gets mixed reviews, which always interests me, and I tend to like novels that rework old legends. So, I'll leave this one here and see what it's all about.
Project List: none
245
Title: The Anatomy of Peace: Resolving the Heart of Conflict
Author: Arbinger Institute
Date Added: 09/11/12
Verdict: Go. I'm swearing off of self-help books for my own mental health. I make exceptions for ones that seem very good (i.e., not self-helpy). It doesn't seem like this one meets my criteria for inclusion. Plus, I already know the secret to living in harmony with everyone.
Project List: n/a
246
Title: The Game of Kings (The Lymond Chronicles, #1)
Author: Dunnett, Dorothy
Date Added: 09/13/12
Verdict: Keep. Reviewers complain that this novel is too complex and too much work to read. Sounds like a challenge to me.
Project List: none.
247
Title: The Wine of Solitude
Author: Némirovsky, Irène
Date Added: 09/14/12
Verdict: Keep. I have no idea why I added this to my TBR, but the setting (Kiev, St Petersburg, WWI, Russian Revolution) and the subject (relationships and the solitary escape of reading) appeal to me.
Project List: none
248
Title: The City & the City
Author: Miéville, China
Date Added: 09/16/12
Verdict: Keep. This novel has a few things working against it in my estimation. 1) "New York Times Bestselling Author" written across the cover; 2) "High concept fiction"; 3) the author's cleverness seems overly intentional. But still. The reviews are intriguing, and some NY Times Bestsellers aren't that bad.
Project List: none.
249
Title: A Grief Observed
Author: Lewis, C.S.
Date Added: 09/16/12
Verdict: Keep. Is it strange that I like reading books about struggles with grief and faith? Well, strange or not, I like them, and this one stays.
Project List: none.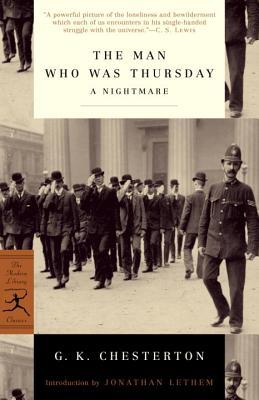 250
Title: The Man Who Was Thursday: A Nightmare
Author: Chesterton, G.K.
Date Added: 09/16/12
Verdict: Keep. I think I'm supposed to read Chesterton, so I guess I'll read Chesterton. And this book seems bizarre, which could be either fun or annoying. I'm curious to see which it is.
Project List: Cavalcade of Classics
---
Three more titles off the list for a total of 81 of 250 (10.8% of the original 750).
Any thoughts about which I kept and which I tossed?