Tangent:
"Why does San Diego have to be so sunny all the time?" asked my son. "I wish it would rain more."
My son is lover of the cold. He dances when it snows, revels in ice, has the sense to avoid coming in out of the rain.
He is having difficulty adjusting to life in Southern California.
I, however, am having less difficulty. Part of it is that I lived in San Diego as a child, for six of my first ten years, in two three-year increments. San Diego is stored in my memory as "normal." Canyons and cliffs and dry air and constantly moderate temperatures are my baseline. It's still an adjustment, but I have to remember it's more of an adjustment for my children.
"I think when I grow up I won't move at all," said my son. "Moving seems like a lot of work."
I forget that the influences in my children's lives are different than those from my own childhood, and therefore their thoughts and feelings will differ from my thoughts and feelings about the same subjects. A boy who can only remember living in New England might not have the same sense of "home" in Southern California as I do.
My son is clearly a different person than I am. I feel humbled to be reminded of that.
Visual Interest:
From Fordyce Bath House, which was made into Hot Springs National Park's museum and visitor's center:
This is the skylight from the men's bathing area of the spa.
Wondering what this is all about? Check out the introductory post.
Books:
Titles 331-350:
331
Title: Homecoming (Tillerman Cycle, #1)
Author: Voigt, Cynthia
Date Added: 4/3/2013
Verdict: Keep. I can't remember why I added this title—maybe it was mentioned on a list of books that people read during childhood that stuck with them—but it looks interesting, so I'll keep it here.
Project List: None.
332
Title: Dragon Slippers (Dragon Slippers, #1)
Author: George, Jessica Day
Date Added: 4/3/2013
Verdict: Keep. Once again, I don't know how this one got on the list in the first place, but it looks like fun, I think my son would like it, and I think the author has a child about my daughter's age, which is kind of—well, not at all significant, but for some reason it contributes to my interest in reading this book.
Project List: None.
333
Title: The End of the Affair
Author: Greene, Graham
Date Added: 4/26/2013
Verdict: Keep. I've been wanting to read a novel by Graham Greene, and this seems as good as any.
Project List: Cavalcade of Classics
334
Title: The Antidote: Happiness for People Who Can't Stand Positive Thinking
Author: Burkeman, Oliver
Date Added: 4/27/2013
Verdict: Keep. It says right in the subtitle that this is a book for people who can't stand positive thinking. I can't stand positive thinking. Ergo, this book is for me.
Project List: None.
335
Title: The Mythic Guide to Characters: Writing Characters Who Enchant and Inspire
Author: Drago, Antonio Del
Date Added: 4/29/2013
Verdict: Go. I think I added this one because I was interested in learning about developing characters from themes/types in mythology. After reading the reviews, I realize that this book isn't about that, and that even if it were, I'd kind of rather do my own legwork learning about the myths and going from there.
Project List: n/a
336
Title: Gold
Author: Cleave, Chris
Date Added: 4/29/2013
Verdict: Go. I remember adding this one because I loved Little Bee, but looking at it now, the subject doesn't interest me, and the reviews don't make it seem like the writing is enough to pull me along.
Project List: n/a
337
Title: The Last Days of Dogtown
Author: Diamant, Anita
Date Added: 5/1/2013
Verdict: Keep. This seems like a novel with which I might like to spend some time. I love character-driven fiction, and apparently this is just that.
Project List: None.
338
Title: Project Conversion: One Man, 12 Faiths, One Year
Author: Bowen, Andrew
Date Added: 5/1/2013
Verdict: Go. I minored in religion and have made a point of educating myself about and cultivating compassion for different faiths, so I doubt Bowen's one-a-month religious samplings would bring me much.
Project List: n/a
339
Title: Play: How It Shapes the Brain, Opens the Imagination, and Invigorates the Soul
Author: Brown, Stuart
Date Added: 5/1/2013
Verdict: Go. Interesting premise, but reviews suggest it's suspiciously lacking in citations of actual research. (Side note: One of my pet peeves is when a publisher puts out a book by an author with "MD" at the end of their name as though that degree by itself makes what the author says accurate, relevant, and supported by science. This kind of thing helps no one. It either reinforces the blind faith of people who already trust doctors implicitly, reinforces the skepticism of people who already know that doctors make a lot of recommendations that aren't research-based, or reinforces the opinions of (some) doctors who think that everything they say is necessarily true and backed by research just because they made it through med school. And if the author has an MD and can't write their own book ("with so-and-so"), I'm even more convinced their name is on there just for the "MD" cred.)
Project List: n/a
340
Title: Comfortable with Uncertainty: 108 Teachings on Cultivating Fearlessness and Compassion
Author: Chödrön, Pema
Date Added: 5/1/2013
Verdict: Go. I always think I should read books by Pema Chödrön, but when I actually sit down to do it, I find that I actually don't want to read books by Pema Chödrön.
Project List: n/a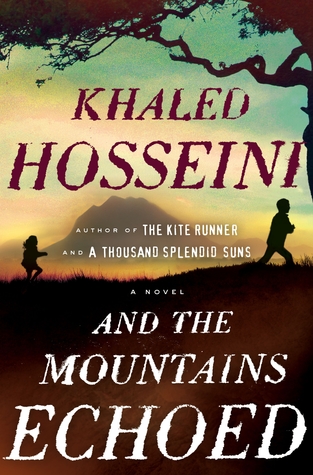 341
Title: And the Mountains Echoed
Author: Hosseini, Khaled
Date Added: 5/1/2013
Verdict: Keep. I'm not sure how interested I am in this one, but people I trust like it enough that I'd like to give it a try.
Project List: None.
342
Title: The Book of Mormon Girl: Stories from an American Faith
Author: Brooks, Joanna
Date Added: 5/1/2013
Verdict: Keep. I watched Joanna Brooks on The Daily Show, I've enjoyed her blog, and so I added her book to my TBR. I'm less interested in this memoir now than I was in 2013, but it still interests me enough to leave it here.
Project List: None.
343
Title: Frozen in Time: An Epic Story of Survival and a Modern Quest for Lost Heroes of World War II
Author: Zuckoff, Mitchell
Date Added: 5/4/2013
Verdict: Go. The subject leaves me cold. (Puns aside, I just don't find myself interested in this story.)
Project List: n/a
344
Title: Stepmonster: A New Look at Why Real Stepmothers Think, Feel, and Act the Way We Do
Author: Martin, Wednesday
Date Added: 5/20/2013
Verdict: Go. I thought maybe this would be interesting to read even though I'm not a stepmother nor can I envision a future in which I'm likely to become a stepmother, but after reading the reviews, I'm not sure a non-stepmother would find this as compelling a read as the stepmothers do.
Project List: n/a
345
Title: Muhammad: The Story of a Prophet and Reformer
Author: Conover, Sarah
Date Added: 5/21/2013
Verdict: Keep. This looks like a good, accessible introduction to the life of Muhammad for teens and older.
Project List: None.
346
Title: Bless All Who Serve: Sources of Hope, Courage and Faith for Military Personnel and Their Families
Author: Tittle, Matthew
Date Added: 5/26/2013
Verdict: Go. I think the memoir War Zone Faith (see below) is a better fit for what I'm seeking.
Project List: n/a
347
Title: War Zone Faith: An Army Chaplain's Reflections from Afghanistan
Author: Tyger, George
Date Added: 5/26/2013
Verdict: Keep. I added this memoir during the period of time when I was considering becoming a Unitarian Universalist Navy chaplain. I'm interested to read about Tyger's take on being a UU chaplain in the Army (which, I'm told, is generally less open toward non-Christian faiths than the Navy).
Project List: None.
348
Title: Seeking Whom He May Devour (Commissaire Adamsberg, #2)
Author: Vargas, Fred
Date Added: 5/27/2013
Verdict: Keep. I must have read somewhere that it was okay to start with the second book in this series, because here this one is. I like that Fred Vargas is a woman, and I like that this book seems to be a mystery involving werewolves.
Project List: None.
349
Title: The Riddle of the Labyrinth: The Quest to Crack an Ancient Code
Author: Fox, Margalit
Date Added: 5/30/2013
Verdict: Keep. This one might end up being a total bust for me, but it really sounds neat from here. And I think my daughter (and maybe my son, too) might like it.
Project List: None.
350
Title: A Young People's History of the United States, Volume 1: Columbus to the Spanish-American War
Author: Zinn, Howard
Date Added: 6/4/2013
Verdict: Keep. I have mixed feelings about books written for children that have a specific political goal in mind. But as there's also a paucity of history written for children that is from the less-heard perspectives, I'm leaving this on here.
Project List: None.
---
Eight more titles off the list for a total of 119 of 350 (15.9% of the original 750).
Any thoughts about which I kept and which I tossed?