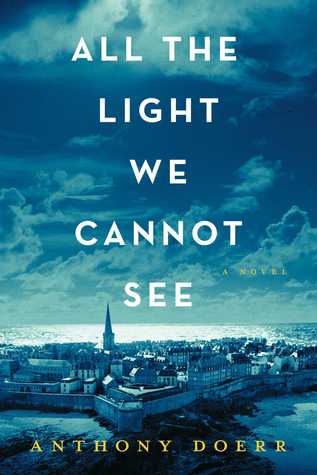 The mostly one- to three-page chapters in this novel oscillate between the story of Werner, an orphaned German boy, and Marie-Laure, a blind French girl. The way the form echoes the idea of triangulation in the novel was very satisfying to me. In triangulation, you know two points and are trying to find an unknown third. Werner (most notably) and other characters use triangulation in both literal and figurative ways throughout the book, just as Doerr starts with the known points of Marie-Laure and Werner and follows the novel through to the unknown point where the two stories meet. The arcs start wide with only a thin thread connecting the stories, but over the course of the novel the distances become shorter and the connections stronger. It's a device that could easily be too clever for my taste, but Doerr uses it skillfully and maintains its relevance by connecting it to the triangulation in the novel.
The pacing also drew me through the book. At the end of the short chapters—especially those from Marie-Laure's perspective—I would often find my heart beating with anticipation. Usually I feel angry that I've allowed myself to be manipulated by an author like that, but this didn't feel like a manipulation; it just felt like a darned good story.
The ending sort of petered out, but the calm after something big happens always feels a little awkward, in both stories and in real life. It takes a while to get one's footing after the foundation has been cracked.
In addition, I did feel annoyed at the inconsistent use of "aquariums" and "aquaria" as the plural for "aquarium," and I find it unlikely that a frugal French woman in wartime would use single-use metal cans to preserve food at home. My spouse gasped in mock horror when I told him about these issues and asked me if I'd rated the book lower because of them. I admit that I considered it—I take editorial lapses fairly seriously—but they didn't hinder my enjoyment of the novel that much. Besides, I can't really expect Doerr to go into detail about why Madame Manec would choose metal cans over glass jars. As much as I might have enjoyed it, it really wouldn't have fit well with the story. (Here's a link if you happen to be interested in reading more about the history of home canning.)
Despite my digression into home canning methods of the early 20th century, my praise of the novel still stands. The form/content connection combined with the interplay of faith and free will and messy morality and the rich, multi-sensory descriptions provided a rich reading experience.
This is the last of the five books my spouse checked out from the library for my 2014 birthday/Christmas present. He really picked some great ones this year. (Sure, he picked them from my to-read list, but since that list is 800 strong, he still had to sift through a lot of titles to find five I'd like.)
He got me…
A Tale for the Time Being by Ruth Ozeki
Men We Reaped by Jesmyn Ward
A Constellation of Vital Phenomena by Anthony Marra
Tenth of December by George Saunders
…and this one.
The only one I wasn't able to read before it had to go back to the library was George Saunders' Tenth of December. Four out of five. I've not been keeping close track over the years, but this might be a record.