Another week, another batch of titles!
I wonder if I should start posting ten titles twice a week to get through the list faster. I do feel like I have some momentum now, and I'm actually starting to read from my TBR, so maybe this project of mine is working. But I don't want to be too hasty about implementing a plan that will increase my weekly workload unless I'm fairly confident I'll be able to keep up with it. I'll mull it over.
Wondering what this is all about? Check out the Introductory Post.
Titles 141-150:
141
Title: We Had It So Good
Author: Grant, Linda
Date Added: 07/10/11
Verdict: Keep (B-List). I have a friend who reads only books by women. She's not opposed to men or to male authors, she just thinks they've had plenty of opportunities to have their voices heard, and in her finite lifetime, she'd like to spend her time reading the voices of women (if I've understood her reasons correctly; I hope she corrects me if I've got it wrong). That's similar to the way I'm starting to feel about Baby Boomer authors and their books about Baby Boomers (i.e., about themselves, which is no surprise). I've considered reading only books by people who are not Baby Boomers, but I'm not quite ready to implement something like that too strictly. This novel, although about Boomers and written by a Boomer, is supposed to provide a realistic look at that generation, warts and all. I might appreciate that (as opposed to the near-constant complaining about Millennials in which so many Boomers as a group usually engage while simultaneously elevating themselves and their lofty ideals) (and of course I don't mean every single Boomer).
Project List: B-List (I think it's time to make this an actual project list, or at least to make a separate category on Goodreads for these.)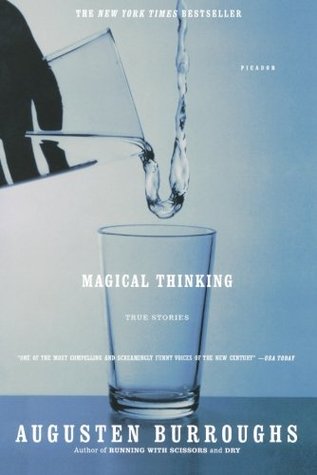 142
Title: Magical Thinking: True Stories
Author: Burroughs, Augusten
Date Added: 07/26/11
Verdict: Go. Part of me is intrigued, but based on the reviews, this just sounds too mean-spirited to me. And I'm put off by how long his Goodreads bio is.
Project List: n/a
143
Title: The Years of Rice and Salt
Author: Robinson, Kim Stanley
Date Added: 07/26/11
Verdict: Keep, B-List. I don't like the cover and I have no idea why this is on my list, but the "speculative fiction" aspect as well as the description of Kim Stanley Robinson's books as "literary science fiction" has me intrigued, albeit B-List intrigued. Maybe a good airplane read?
Project List: B-List.
144
Title: The Alteration
Author: Amis, Kingsley
Date Added: 07/26/11
Verdict: Keep, B-List. I suspect I added it to the list because people said it was like Philip K. Dick, and I like Philip K. Dick. That's also the reason I'll leave it on here. That and the reviewers' descriptions vary so much, it's go me curious what's in the novel.
Project List: B-List.
145
Title: Lives of the Signers of the Declaration of Independence
Author: Lossing, Benson John
Date Added: 07/26/11
Verdict: Go. Learning about the signers of the Declaration of Independence is something I'd like to, but by all accounts, this seems to be mostly a list of facts, and I would like more historical context and analysis, written in a narrative format, if possible.
Project List: n/a
146
Title: What We Say Matters: Practicing Nonviolent Communication
Author: Lasater, Judith Hanson
Date Added: 08/10/11
Verdict: Go. I added this book because the principles of Nonviolent/Compassionate Communication have helped me immensely, and I'm always looking for other ways to implement them minus the corny and/or stilted language. I was hoping this book might be that, but based on the reviews, the good stuff it provides seems to be the basic principles of NVC.
Project List: n/a
147
Title: The Book of Abigail and John: Selected Letters of the Adams Family, 1762-1784
Author: Adams, Abigail
Date Added: 08/15/11
Verdict: Go. I find the idea of reading the correspondence between John and Abigail Adams to be as appealing as I did when I first added this book, but I think I'll start with the Adams-Jefferson letters (which includes letters written by Abigail Adams and which is already on my TBR) and then maybe circle back around to this one if I'm still interested in more epistolary information about the Adams's relationship.
Project List: n/a
148
Title: Hold On to Your Kids: Why Parents Need to Matter More Than Peers
Author: Neufeld, Gordon
Date Added: 09/19/11
Verdict: Keep. I used to own this book until I got pissed off at parenting books and gave them all away. But with a near-teenager in my house now, I've become interested in how attachment parenting morphs as children grow older. This book seems like a good place to start, although I reserve the right to throw it at the wall if it gets too parenting-book-y
Project List: none
149
Title: The Complete Tales
Author: Potter, Beatrix
Date Added: 09/19/11
Verdict: Go. I really like Beatrix Potter and her writing, but I don't think this really needs to be on my TBR. It's not like I'll forget about it.
Project List: n/a
150
Title: The Feast of Love
Author: Baxter, Charles
Date Added: 09/19/11
Verdict: Keep. I'm not sure what made me put it on the TBR in the first place, especially right after Beatrix Potter, but the description of this as being written in five clearly delineated voices has me wanting to read it. So many authors do the multiple voices thing so poorly, and if this one really does it well, it would be a pleasure to read, even just for that.
Project List: none
---
Another five titles off the list, for a total of 44 out of 150 (5.8% of the original 750).
Are there any of these that I kept that you would have jettisoned, or any that I jettisoned that you recommend I keep?