I'm gearing up for this weekend's Dewey's 24-Hour Readathon. Right now, I think none of the books in my readathon stack are from my TBR list. Typical.
Wondering what this is all about? Check out the introductory post.
Titles 181-190:
181
Title: Taft 2012
Author: Heller, Jason
Date Added: 01/27/12
Verdict: Go. The premise interests me but not enough to keep it on the list.
Project List: n/a
182
Title: After the Apocalypse
Author: McHugh, Maureen F.
Date Added: 01/31/12
Verdict: Keep. I like dystopian fiction, and reading it in short story form rather than novel form would be a change of pace. Also, reviews suggest this is a thinking-person's novel, and sometimes I think.
Project List: none.
183
Title: Dark Tide: The Great Boston Molasses Flood of 1919
Author: Puleo, Stephen
Date Added: 01/31/12
Verdict: Keep. How can I pass up a book about a rather bizarre tragedy (molasses?) that took place a couple of dozen miles from my current place of residence?
Project List: none.
184
Title: The Bostonians
Author: James, Henry
Date Added: 01/31/12
Verdict: Keep. Satire's cool, and this would be an interesting addition to my Cavalcade of Classics.
Project List: Cavalcade of Classics.
185
Title: Number the Stars
Author: Lowry, Lois
Date Added: 01/31/12
Verdict: Keep. I've been wanting to read this one for a while and only put it off because I wanted to read it with my kids and wanted to make sure that they were old enough for the story.
Project List: none.
186
Title: Goodbye, I Love You
Author: Pearson, Carol Lynn
Date Added: 02/12/12
Verdict: Keep. I have tried to explain to my children the attitudes around HIV/AIDS in the mid-80's, but I can tell that they don't get it. It was difficult to understand as a child at the time; I can imagine that it's even more difficult for a 21st-century child. I was in fifth grade when Ryan White's struggle to be admitted to school was national news. I remember a Weekly Reader issue about him and conversations in class about how HIV is transmitted and how it's not, and I remember being confused and appalled. Why wouldn't a child with an illness that couldn't be transmitted to his classmates by casual contact not be allowed to go to school? As an adult, I'm still appalled, but I understand better the nature of the fear his classmates' parents experienced. I disagree with it, but I can see why they had it given the stigma surrounding HIV/AIDS at the time. I am curious to see how Pearson, as an LDS woman in the mid-1980's, faced not only with her husband's illness but also his homosexuality with the grace and love she seems to have shown. It must have been a significant challenge to her faith. I'm looking forward to reading this memoir and seeing what I think of it as someone whose only connection with Mormonism is a handful of LDS friends and having lived in Salt Lake City for three years.
Project List: none.
187
Title: Sarah's Key
Author: Rosnay, Tatiana de
Date Added: 02/14/12
Verdict: Go. The story sounds like this novel could be very good, but based on the reviews, having loved All the Light We Cannot See and The Book Thief, I'm likely to be disappointed at the way the author handled the story. I don't want to set myself up for that kind of disappointment.
Project List: none.
188
Title: The Cat Who Went to Heaven
Author: Coatsworth, Elizabeth
Date Added: 02/16/12
Verdict: Keep. I kind of think I might already have read this one. I'll guess I'll just have to check it out and find out.
Project List: none.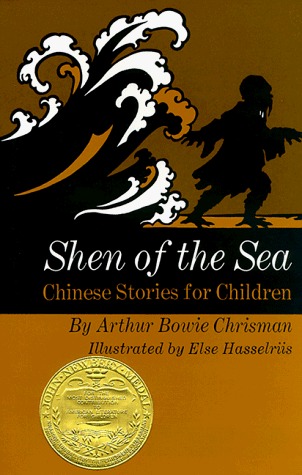 189
Title: Shen of the Sea: Chinese Stories for Children
Author: Chrisman, Arthur Bowie
Date Added: 02/16/12
Verdict: Go. I would rather read a book of Chinese stories that are actually stories from China.
Project List: none.
190
Title: A Gentle Madness: Bibliophiles, Bibliomanes, and the Eternal Passion for Books
Author: Basbanes, Nicholas A.
Date Added: 02/19/12
Verdict: Keep. I like to read, and I like books, but I've never quite understood collecting books. I like the contents, but I can't really see the appeal of collecting the physical book, even if it's signed or rare or first edition or owned by someone famous. I'd like to read this to try to understand the urge to pursue and collect books.
Project List: none.
---
Three more off the list for a total of 60 out of 190 titles decluttered (8% of the original 750).
Any thoughts about which titles made the cut and which didn't?