For me, this November is a month packed with so many fun things. I'm scheduling several weeks in advance, so if something really big happens and I fail to mention it, that's why. Well, something big besides more books disappearing from my TBR.
Want to know what this is all about? Check out the introductory post.
Titles 211-220: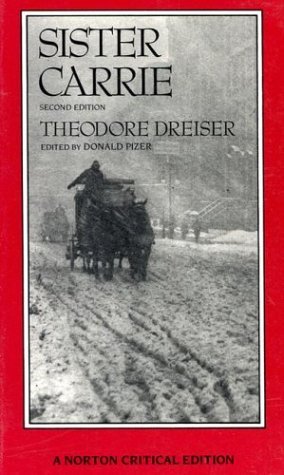 211
Title: Sister Carrie
Author: Dreiser, Theodore
Date Added: 05/02/12
Verdict: Keep. This book is said to have been very influential on some writers I greatly respect. The themes it addresses also interest me.
Project List: Cavalcade of Classics
212
Title: Traveling Mercies: Some Thoughts on Faith
Author: Lamott, Anne
Date Added: 05/12/12
Verdict: Go. Until my last book purge, I owned this one. I gave it away because it wasn't compelling enough to keep it. Also, although I liked Bird by Bird, I did not like Operating Instructions (it's on my DNF list), and I'm not keen on having the same odds as a coin toss as to whether I'll like this book or not. I'm forty years old; I need to aim for sure things when it comes to my reading material.
Project List: n/a
213
Title: Delusions of Gender: How Our Minds, Society, and Neurosexism Create Difference
Author: Fine, Cordelia
Date Added: 05/14/12
Verdict: Keep. This one seems more accessible, both in its tone and in my ability to locate a copy of it, than Judith Butler's Undoing Gender (#386 on my TBR). I'll start with this one, I think, and if I want a more academic take on the subject, I'll go on to Butler's book.
Project List: none
214
Title: The Crime at Black Dudley
Author: Allingham, Margery
Date Added: 05/19/12
Verdict: Go. I'm not really a fan of Agatha Christie, and this appears to be a mystery in that vein.
Project List: n/a
215
Title: Farewell to Manzanar
Author: Houston, Jeanne Wakatsuki
Date Added: 06/01/12
Verdict: Keep. This seems like an interesting first-hand account of life in a Japanese internment camp during WWII.
Project List: maybe Cavalcade of Classics?
216
Title: Half of a Yellow Sun
Author: Adichie, Chimamanda Ngozi
Date Added: 06/02/12
Verdict: Keep. I've enjoyed the other books by Adichie that I've read, so why not leave this one in the queue?
Project List: none.
217
Title: Freckles
Author: Stratton-Porter, Gene
Date Added: 06/09/12
Verdict: Keep. This book sounds quirky, and I have very few kid/young adult books on my Cavalcade of Classics.
Project List: Cavalcade of Classics
218
Title: Mission to Paris (Night Soldiers, #12)
Author: Furst, Alan
Date Added: 06/13/12
Verdict: Go. WWII noir fiction sounds like an interesting—and quite specific—genre, but I doubt this book is my bag of donuts.
Project List: n/a
219
Title: Reading Classes: On Culture and Classism in America
Author: Jensen, Barbara
Date Added: 06/16/12
Verdict: Go. The premise intrigues me, but I am really, really tired of nonfiction authors inserting themselves into their books. If you don't have enough to say about a subject without making it about yourself, perhaps you shouldn't be writing the book. This seems like a rather harsh indictment of a book I haven't read, but the emphasis on the autobiographical is right in the description, so I have to imagine that it's a big part of the book, and that kind of thing just rankles me.
Project List: n/a
220
Title: Jewel of the Desert: Japanese American Internment at Topaz
Author: Taylor, Sandra C.
Date Added: 06/30/12
Verdict: Go. I remembering adding this to my TBR because it was about the Topaz internment camp in Utah, which wasn't too far from where I lived for three years. I attended a Buddhist temple in Salt Lake City, and some of the members there were of an age to remember—and perhaps to have experienced—the internment camps. I regret not finding the words to ask about that part of Japanese-American history in Utah. Despite my interest in the subject, Jeanne Wakatsuki Houston's memoir appeals to me as a more in-depth account of someone who lived the experience.
Project List: n/a
---
That's five more titles off the list, for a total of 72 out of 220 (9.6% of the original 750). I hope I'm not cutting too deeply just because I'm going through these ten titles during a bout of insomnia and I'm feeling a bit surly. Meh. If I did cut too much, I have these blog posts to remind me of what I scrapped.
Any thoughts about which I kept and which I tossed?